We "Astek Electricals India Pvt. Ltd." Provides Engineering Services like, Liosoning Work, H.T. / L.T. Panels Installation, Testing & Commissioning, H.T Structure Installations, H.T./L.T. Cable Laying, Cable Termination, Cable Jointing, Cable Tray Installation, Fabrication Work, Earthing, Bus duct Installation & Relay Testing, Industrial and Commercial Turnkey Project Work.
Liosoning job with Electricity Board like Torrent Power, DGVCL getting power as per the scheduled time.
Preparation for all necessary Electrical Installation drawings as per IS standard and rules and  regulations, submitting the drawings to local Electrical Inspector, getting the installation inspected by the Electrical inspector and obtaining approval after clouting all works.
The Complete Electrical systems required for the new projects starting from the point of Commencement of electrical supply up to User point including HT Installation up to 22KV, cabling, earthling, plant lighting including flame Proof lighting, street and yard lighting, etc.
Designs, Preparation of necessary drawings, installation and commissioning of complete new Projects covering Power Distribution, UPS Power Distribution. CCTV System, Access Control BMS System control cabling erection and commissioning of all types of instrumentation and control Panels.
Any other Erection and Commissioning activity in the fields of Electrical, Electronic and Process instrumentation to meet the customer's Requirement.
Service and Maintenance of Transformers, HT /LT Panels and HT /LT Motors.
All kind of Instrumentation jobs including control cabling and termination, loop checks cable laying & jointing works (H. T. / L. T.)& Meter validations Etc.
Installation and commissioning of all types / capacities of Diesel Generating sets including overhauling of the sets.
Installation and commissioning of all types INDUSTRIALS AUTOMATION Products like AC/DC Drives, PLCs, HMI, and SCADA SYSTEMS.
CALL US ON :
(+91) 97279 80082 / 98250 80082
Low Voltage (L.T.) Switchboard(Technology by SIEMENS) Type Tested as per IEC‐61439SIEPAN‐8PU.
The Low voltage Switchboards/ panels that meets the IEC 60439‐3 standards, with total operational and maintenance security because of their characteristics TTA.
Developed to meet the requirements of the switchboards loads of high electrical currents and high levels of short‐circuit current, with switch gear equipment and protection that meet the  requirements of quality, security and performance.
Their modularity allows future expansions without having to make adjustments during assembly, the modular structure is simple to install and sizing, allowing mounting the panels by integrators duly trained by SIEMENS.
The Modular Panel Technology by SIEMENS Called SIEPAN – 8PU.
SIEMENSSIEPAN ‐ 8PU design for low voltage switchboards has become an industry benchmark with proven performance for the past many decades.Designed to operate in challenging conditions of high ambient & dust 8PU low voltage switchboards have been patronized by various segments like cement, steel, refinery, oil & gas, pharma, F&B, data centers, hospitals & hotels, metro‐rail projects having deployed more than 100,000 LV switchboards for maximum reliability and performance.This is Proven Technology From SIEMENS For SIEPAN 8PU® LV Switchboards is now also available Through A network of Licenced Partners Across the Country.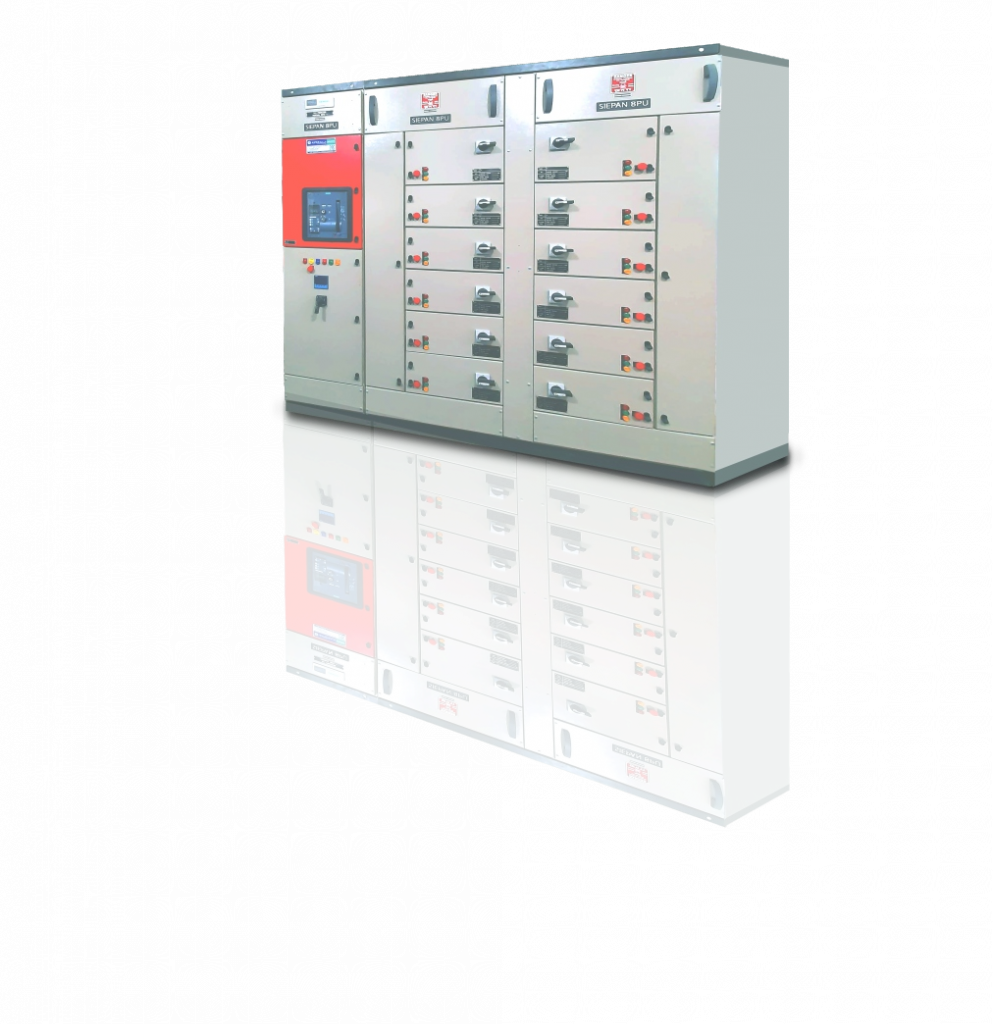 SIEPAN‐8PU Low Voltage Switchboards Technology by Siemens.
Licensed Partner built PCC, IMCC, Draw‐out MCCs, APFC solutions
Conformance to Type Tested assemblies (TTA)
Conformance to Seismic withstand up to Zone V
Conformance to Internal Arc Containment (IAC)
Fully compartmentalized, bolted & modular design for PCC & MCC
Non‐compartmentalized drive control panels
Non‐compartmentalized APFC panels
Power control centers
Communication capable intelligent power control centers (IPCCs)
Withdrawals motor control centers with patented Alstan® bus‐bar technology
Energy management PCCs for Plant & Building
Motor control centers – Fuseless and with Fuse
Intelligent motor control centers (IMCCs)
Integrated PMCCs for Ethernet connectivity
Automatic power factor correction panels
All variants available with a choice of aluminum and copper for bus‐bars
Degree of ingress protection up to IP 54 for all rating.
123-456-789
Don't hesitate to contact us
Working Time
Mon-Fri: 9:00 - 18:00 / Closed on weekends